Floating Boathouse Gallery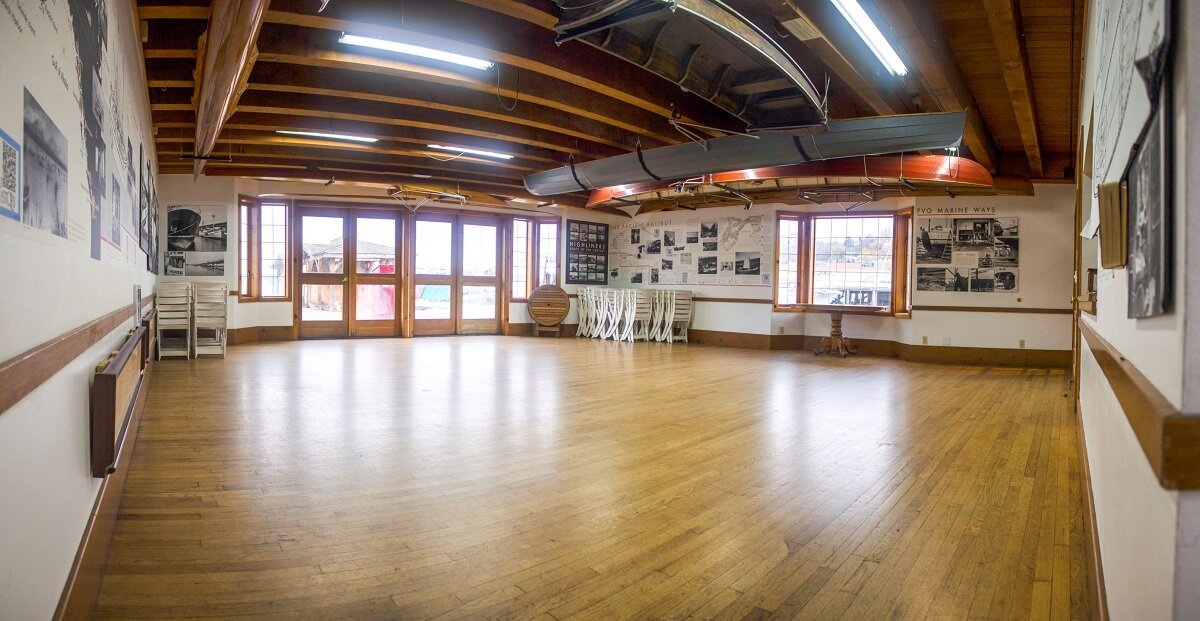 Location: The Gallery is located on the main floor (dock level) of the Floating Boat House.
Maximum occupancy: 45 for a sit-down dinner and up to 60 for a stand-up affair.
Frequent uses include: Weddings, birthday parties, anniversary celebrations, work events, and special occasions.
Dimensions: The main floor of the floating boathouse, kitchen/bar, two restrooms. View the Boathouse Gallery renters floor plan by downloading the facility rental information packet.
Facility Rental includes:
Five 60'' round tables (Generally seats 8; as many as 10)

Eight 6' rectangular banquet tables (Generally seats 6; as many as 8)

30 folding chairs (White)

Projector and Pop-Up Screen


Interested? Download our facility rental information packet to see if CWB is the right fit for your occasion or request a booking consultation below.
Located in the heart of Seattle's South Lake Union, the floating Boathouse offers exceptional views in every season. This event space is nestled in the middle of CWB's marina, filled with our historical collection of wooden vessels. The scenery surrounding this space makes for memorable photos with the Space Needle and MOHAI to the west and waterfront views of sailboats and seaplanes navigating Lake Union to the north. The Boathouse features hardwood floors, exposed beams, and large windows that flood the space with natural light. Stepping through the Boathouse's French doors will take guests to a wood-plank dock where one can take in the beauty of the area and connect with Seattle's maritime heritage. To learn more about our floating building's history and our historical landmark status, click here.
Frequently Asked Questions
Thank you for your interest in hosting an event at CWB. We are excited to be part of your memorable moments! Below is a list of frequently asked questions. If your question is not answered below, please refer to our Facility Rental Information Packet which you can download by clicking here.
No, boat use is not included in the rental cost; however, guests may rent boats individually at regular rates and must follow all Livery rules and guidelines when using CWB boats, all boats must return at least 15 minutes before the Livery closes.

Yes, guests who wish to bring private boats down for the event may reserve linear moorage on the North Seawall in Lake Union Park, west of MOHAI. Reservation required and subject to availability. Contact CWB, 206-382-2628. Moorage rates for 2022 are $1.30 per linear foot of length over all (LOA).

Yes, the North Dock is included with the Boat House rental. It measures 39' (East/West) by 32' (North/South) and fits seating for up 18 guests and has standing space for 30.

No, CWB's fleet of boats is a priceless historical collection and will not be moved from their space. Plus, they make for great pictures anyway, consider guests of your event!

Yes, if your event is scheduled during our operational hours, please be aware that the public will have access to all CWB spaces and services that are not being rented for your event

The renting party is responsible for set-up and clean-up, both of which must take place during the rental period.

Both the $500.00 security deposit AND 50% of the venue fee is due at the time of booking. Please note the security deposit does not apply towards the balance owed. The remaining balance is due 30 days before the event.

In the event of a cancellation, the security deposit is not refundable. If the rental is cancelled at least 30 days prior to the event, you may reschedule to a new available date within the same calendar year using the same deposit. If the rental is cancelled within 30 days of the event the security deposit AND full balance are forfeited.

Event equipment may be delivered the day of your event free of charge so long as it does not block doors or interfere with CWB programs. A $350 fee per day will be added to the rental bill if equipment is delivered early or picked up late.